What is the Best Overhead Door for a Metal Building and Why?

When you're constructing a metal building, whether it's a small backyard shed or a large working garage, the type of overhead doors you choose for it's closure are a big decision! From functionality and space all the way down to security, there's a lot your overhead door will be responsible for. That's why we're diving into the BIG questions to consider when determining which overhead doors are best for your metal building.
Top Considerations for Choosing an Overhead Door:
How easy is this overhead door to install, operate and maintain?
How durable/secure is this door?
How often will you be accessing your metal building?
Can this door be customized to fit your needs?
How Easy IS THIS OVERHEAD Door to install, operate and maintain?
INSTALLATION | The long process of installation can be frustrating, especially when it comes with complicated instructions and requires many tools you simply don't have. That's why we've made roll-up doors that are known for being a quick and easy install project. You can wave goodbye to tedious instructions, heavy materials and lengthy installation processes. And, if you're not in the position to install the doors yourself, we can even coordinate with a skilled install team to get your project off the ground as quickly as possible.
OPERATION | ASTA America roll-up doors all come included with spiral torque tubes, tension holding devices and adjustment available in the bracket systems to ensure they're sustainable and easy to operate for years to come.
MAINTENANCE | Maintaining a door with many working parts can be daunting, especially when those parts are all exposed to environmental elements aiding their wear and tear. That's why we've made roll-up doors with pre-assembled parts in the factory such as enclosed lubricated springs, so you don't have to worry about the time-consuming maintenance steps that other doors and designs require. That's less time spent on door maintenance, less money spent on labor costs and more time back in your day.
HOW DURABLE / SECURE IS A ROLL UP DOOR?
Galvanized grade 80 steel roll up doors produce the durability to withstand your average wear and tear. Their corrugated steel design increases their strength making them an integral piece in your building's security. Each commercial roll up door comes standard with inside dual slide bolt locks, which can be locked with an exterior lock or personal padlock. With a wide variety of options available, you can choose between light, medium and heavy duty doors to meet your building's exact needs!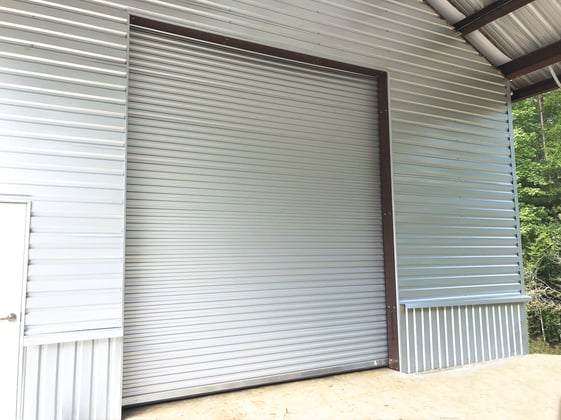 HOW OFTEN WILL YOU BE ACCESSING YOUR METAL BUILDING?
If you're going to be using your metal building to store large equipment such as vehicles or accessing your building on a frequent basis, it may be worth your while to consider automating your experience. ASTA America offers a wide variety of operators varying in design, features and options to accommodate a broad range of applications. From metal buildings to industrial facilities, we have an efficient and secure solution for door automation!
Want to learn about industry leading operators for commercial roll up doors and rolling steel slat doors? CLICK HERE >>>
CAN ROLL UP DOORS BE CUSTOMIZED TO FIT YOUR NEEDS?
When it comes to commercial and industrial doors, ASTA America has every model size, option and color in the book! From windload and fire ratings to premium insulation offerings, we can customize your roll up door to fit your exact design needs. Ready to get started? Contact us today and we'll be happy to get your project off the ground as quickly as possible!