Don't Let a Damaged Door Get You Down
A damaged door can immediately halt a project which decreases productivity, directly affecting your revenue. The longer that door is down or damaged, the more extensive that financial loss will be. That's why it's crucial to invest in an easily sustainable door that's both quick and cost efficient to repair when damage strikes!
Because rolling steel doors are constructed of individual interlocking slats rather than sheets or panels, you can replace the specific slats that were subject to damage in that curtain. This is exceptionally cost efficient when your door is subject to little damage because it's replacing a small component rather than an entire door.
Slat Replacement is quick and easy, so don't put it off!
To make this process even smoother, industry leaders have created versatile slats that are designed to be compatible with other manufacturers. This means, if you have an overhead door from a different provider, you can still use Asta Slats to repair their damage! Check out our compatibility chart to see how accommodating these slat profiles can be.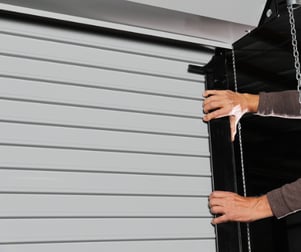 Additionally, top providers even include service cut outs in their door's guide! At Asta, this is a large 33" section of the guide that can be easily removed, allowing the curtain to be rolled outside of the guide to facilitate quick repairs and fast installs. Service cut outs are directly responsible for saving you time and money when repairing a damaged rolling steel door!
Slat Doors come in a variety of options to fit your every need, aesthetically and operationally!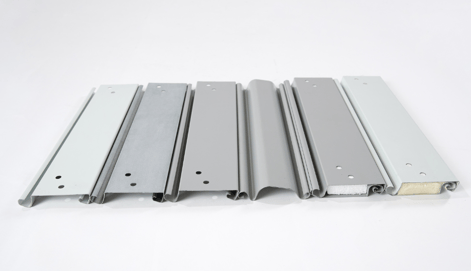 Slats for Rolling Steel Doors can come in a variety of options such as different colors, shapes, insulation types and more! Here at Asta, we carry both flat and curved profile slats that come in a breadth of colors. Our laid-in-place and foam-in-place insulated slats are both beneficial selections for rolling steel doors that save on energy costs and reduce noise transmission throughout a climate controlled facility! With all the enhancements rolling steel has to offer, you can truly customize your door to fit your every need.
Repairing your Rolling Steel Door as soon as possible after damage strikes is very important!
Fast acting repair on your Rolling Steel Doors will save you money in two ways:
Every moment your door is down or damaged means money's coming out of your pocket due to decreased productivity. By repairing your door fast, you're minimizing the downtime and sustaining your productivity.

Additionally, repairing your door as soon as possible will save you money by preventing further damage to your door.
Accidents Happen! And damage to doors in busy working environment such as freight terminals and warehouses is inevitable. One of the most common causes for damage to overhead doors in these environments is due to forklift damage. So stay prepared with rolling steel doors that have the luxury of getting repairs completed efficiently, so you don't miss a beat of business!