Are Roll up Doors Actually Better for Garages?
Have you ever considered the different type of doors you can use for a garage, hobby shop, barn or storage shed? While this may not be the first thing that comes to mind during your building's planning phase, it's quite important. After all, the door you choose will impact each encounter made with your building. Different doors can unlock unique advantages and dis-advantages for your building. Chances are, you don't want a door on your hobby shop that's bulky, takes up a lot of space, is hard to operate and costly to maintain. So what are the top considerations when looking for a garage door?
Top considerations when looking for a garage door:
Ease of Installation and Maintenance
Durability
Operation
Cost and Quality
Have you ever noticed how slim and compact a roll up door can be? Their innovative design allows the drum/axle assembly to remain enclosed inside of a barrel. When it's time to open the door, the corrugated curtain conveniently rolls up to store in a coil above the door's opening. Not only does this design protect important components from dust, debris and environmental hazards which could lead to costly damage, but it also contributes to the easy installation and low maintenance of a roll-up door.
ASTA's 200 Series Roll up Garage Door: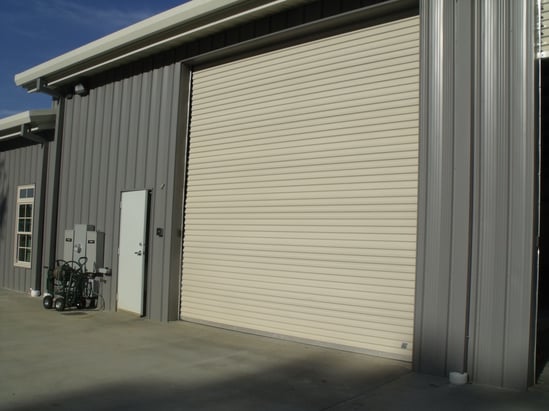 Say goodbye to exposed curtains, tracks, and components 24/7!
No matter the position of your roll-up door, opened or closed, they remain low profile and give you back the space that's yours! That's ceiling space for additional lighting, HVAC components, emergency fire sprinklers and even additional storage. If you're already low on ceiling space, not a problem! That's what makes roll-up doors so compatible for buildings with little headroom.
Did you know some overhead doors have over 40 exposed parts that have to be lubricated and well maintained on a routinely basis? That's a lot of work! Not to mention, regular maintenance can get costly. By enclosing parts inside the barrel, your door is durable and stays protected from harm, making roll-up doors less vulnerable to damage. When components such as springs aren't enclosed and protected, they can easily degrade and break which can cause serious injuries and damage. By Pre-greasing and enclosing springs, we make sure our commercial roll-up doors is built to last! Check out the diagram below where we've outlined just how compact a roll-up door and it's components are.
Roll-up Door Components: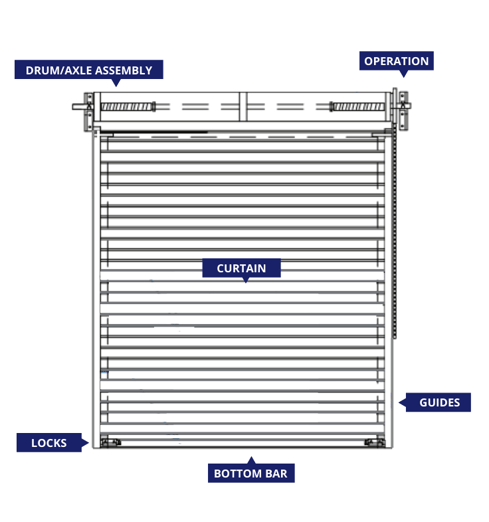 Thanks to the innovative design and inherent strength of roll-up doors, they can unlock all new benefits for garages and commercial buildings. You can even customize these doors to fit your every need, from operation, insulation, wind ratings and color.
Have Questions? Contact us today or click the button below to view products and see which overhead door would be best for your garage, commercial or industrial application!