What You Need to Know about the Easy Roller Automatic Door Opener
Increasing Efficiency with Automatic Roll-up Doors
Selecting the right operator for your commercial sheet door is no small task. You want an easy-to-use operator that heightens both convenience and security - and that's where the Easy Roller automatic door opener comes in. In this blog, we'll dive into the advantages of automatic roll-up doors, as well as the key features and benefits of the Easy Roller automatic door opener.
It's no secret that door automation is a popular enhancement to nearly any application - from residential garages to commercial and industrial buildings. While there's a lengthy list of reasons for its high demand, ease-of-use and heightened security remain consistent factors. And did you know that automatic door openers can even be designed with innovative features such as soft start and soft close to increase the life-time-value of your overhead door? It's true! These are just a few reasons why it's so common to find automatic roll-up doors in commercial settings such as garages, warehouses and industrial facilities. Below are a few key features and benefits specific to the Easy Roller automatic door opener.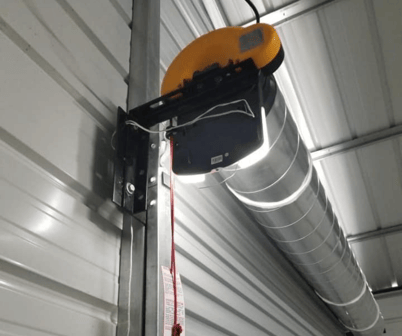 Key Features and Benefits of the Easy Roller Operator:
600N DC Motor
Slim Fit Design
LED Courtesy Light
Intelligent Safety System
Soft Start / Soft Close
Door Profiling
TrioCode 128
Intelligent Safety System
With the right automatic door opener, you can take advantage of smart, simple and secure features such as the intelligent safety system. This features ensures that the operator will stop or reverse the door if contact is made with an obstruction while moving, to reduce the risk of injury or property damage.
Soft Start / Soft Close
Features like soft start and soft close are designed to reduce the stress on both the door and the operator. This is done by ramping speed up or slowing it down at the start and end of each cycle. The soft start and soft close features increases both the door and the operator's life-time-value, allowing you to enjoy your automatic roll-up door for years to come.
Door Profiling
The door profiling feature helps the intelligent safety system do its job. This is done by learning the amount of power needed for different stages of the door's travel during set-up, and it's constantly re-profiled.
TrioCode 128
Secure and reliable transmitters are important when it comes to door automation. The TrioCode 128 remote control ensures secure and reliable access. It transmits on three frequencies to defeat radio interference and uses a 128-bit encryption protocol (with trillions upon trillions of random cones) for the ultimate security.
Best of all, the Easy Roller automatic door opener is easily retrofittable onto dead-axle sheet doors. This means, you don't have to go out and spend thousands of dollars automating your application. Retrofitting is made simple with the Easy Roller's slim fit chassis, which only requires as little as 1.6" of side room for installation. While we recommend 5.3" of side room for comfort, this slim fit motor can accommodate a variety of applications. Retrofitting your existing commercial sheet door comes with many benefits too. Cost savings, operational efficiency, safety and security, just to name a few.