7 Benefits of Rolling Steel Doors
Rolling Steel Doors have been considered the king of the industry for quite some time, this is largely due to them providing the best long-term value. However, there are several other considerations at play when evaluating the best door in the industry. Rolling Steel Doors offer a variety of benefits for a volume of applications, so check out the top 7 below to learn how these doors have earned their reputation!
Rolling Steel Doors Offer a Variety of Benefits:
1. Customization
Rolling Steel is the optimal surface for customization, ranging from a variety of colors, vision panels, motor operations, insulation, windload certifications, and more! With unique design opportunities, you can truly customize your door to fulfill your specific needs, making it a perfect fit for a variety of applications!
2. Easy Maintenance
Did you know that rolling steel doors require minimal maintenance to sustain? This is because of their easy to clean material and compact design that protects important elements inside of their barrel. This compact design is ideal because it encloses features that would otherwise be out and exposed to environmental elements at all times, which increases your doors risk for damage. For quick and simple tips on easy maintenance, check out our blog, Stay Fresh! How to Keep Your Metal Doors Looking Their Best.
3. Cost Efficient Repairs
Because the curtains of rolling steel doors are composed of interlocking slats, repairs can be quick and cost efficient! This is because when your rolling steel door experiences damage, you have the ability to replace just the effected slats rather than the entire door! This decreases the length of down time for your door because the repair work is less complex, helping to facilitate a quick and easy recovery and minimizing the time of decreased production.
Here at ASTA, our slat profiles are even compatible with other manufacturers. To check out our compatibility chart, click here!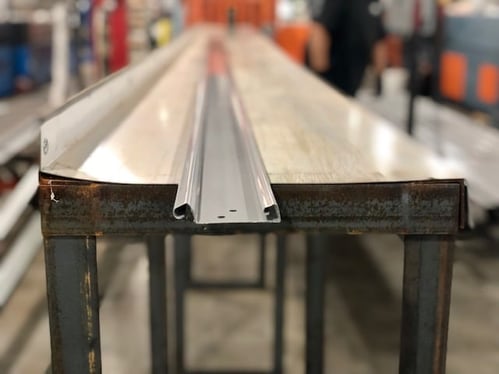 4. Increased Size
Rolling steel has the advantage of size on it's side! These doors can accommodate much larger applications ranging up to 40' wide or 30' high (varying by model). This makes them the perfect fit for industrial or commercial applications where large doors are needed to maximize efficiency, whether than involves trucks transporting stock from dock-to-door or warehouses producing large products! Providing you plenty of room for your operational needs, rolling steel doors are a surefire way to increase your operational efficiency!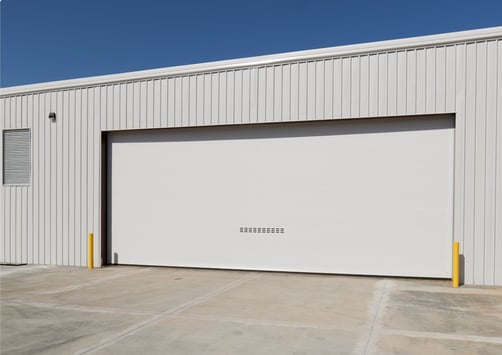 5. Maximized Space
Because of rolling steel's compact design that coils up and around a drum rather than resting parallel with the ceiling, they maximize your space! You can use this bonus room to increase your operational efficiency, such as increasing your lighting or allowing consistent access to your emergency fire-sprinklers. Check out the increased ceiling space on the image below!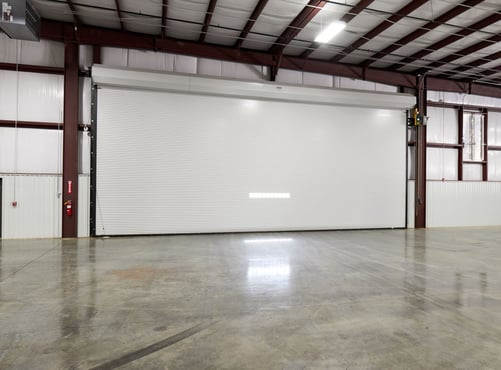 6. Superior Durability
Because rolling steel curtains are constructed of individual interlocking slats, there are more joints that contribute to greater strength. That means rolling steel doors resist dents and dings while protecting your building from the outside in. Because rolling steel is more impenetrable than other materials, they are superior choices when protection is key! That is why rolling steel doors are commonly found in windload certified applications.
In environments associated with severe weather, it's crucial to have a door that can hold up through intense pressures. Rolling steel doors do just that - they resist bowing, buckling, and misalignment during these events, ultimately protecting the structural integrity of your entire building!
7. Fire Rating Opportunity
Rolling Steel doors have the superior advantage of being fire-rated! This is a cost efficient prevention method that protects your building, occupants, and assets in the event of a fire. These doors can be tied to automatic closure components, such as fusible links that disengage when your door reaches a certain temperature, or automatic closure when the building's fire alarm is triggered.
By closing large openings during a fire, these doors are reducing it's oxygen supply which is the key factor in slowing down or preventing the spread of a fire inside of your building.
Each of the above benefits have a lot to offer your building, no matter the setting. Want to incorporate them on your next project? Check out our products or talk to an industry expert today to learn more on rolling steel doors.