What is a Fire Rated Door and Do I Need One?
You may not realize it, but fire rated doors and fire rated counter shutters are located all around us. Think back to schools, banks, pharmacies, malls, hospitals or any other public building you may have been in. Chances are - you've seen them there!
The key purpose of a fire rated door is to provide a cost effective prevention method designed to save lives and minimize damage in the event of a fire. These industrial strength rolling doors are strategically designed to quickly contain an area when flames, smoke and intense heat arise. They can even be fabricated to last all the way up to 4 hours with direct exposure to heat and flames.
How Do Fire doors operate and protect?
It's no secret that fires feed on oxygen and the number one way to slow a fire down or prevent it from spreading is to deplete its oxygen source. You can do this by closing all doors and windows throughout the building, making a fire door's automatic closure component most important because it's the fastest way to create a barrier and deplete the fire's oxygen supply. This automatic closure is made possible by connecting a fire door release device or utilizing fusible links that separate when heat reaches 165 degrees, releasing the tension of the door and causing it to automatically close.
Active Test Door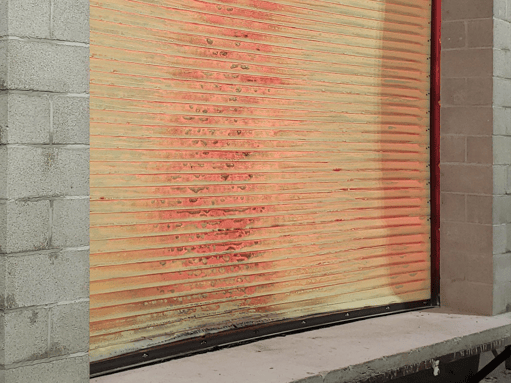 What are the 3 key benefits of fire doors?
Safety
Durability
Customization
Safety
You can't put a price on increasing building safety. Think about if your building was ever subject to a fire, can you imagine what all you could save if you had invested in fire rated doors beforehand? These rolling doors would protect the structural integrity of your building by limiting the area affected from flames, smoke and heat. With limited exposure to harmful elements, fire rated doors make a safer environment for your building, assets and occupants.
Durability
When you have a fire rated rolling door, its curtain is constructed of interlocking steel slats that are strategically designed for structural integrity. Because of their inherent strength, rolling doors can easily handle higher cycle applications and combat more operational wear and tear than a traditional overhead door.
Want to learn more about the structural integrity of rolling doors? Click here to read our blog, "Protect Your Building with Rolling Steel Doors".
Customization
Just because you've invested in a heavy duty fire rated rolling door doesn't mean you have to forfeit the option of customization. Fire doors can have the luxury of being both functional and aesthetically pleasing to your building. With various finishes, motor operations and more opportunities for customization, you can design your rolling door to meet your exact design needs.
How to know if you need a fire door
International fire and building codes require certain facilities and their components (windows, doors, etc.) to follow specific safety guidelines. These requirements typically pertain to public buildings and businesses, and are mostly concentrated in areas where public safety is of high concern.
If you would like to learn more about the specific codes and requirements, the 2018 International Fire Code (IFC) published by the International Code Council (ICC) can be purchased and downloaded here.
How to properly maintain a fire door
You will need to perform a drop test and annual follow up on your rolling steel fire doors. This process starts with a visual and operational inspection to ensure the door is using normal operations to open and close. Once the inspection is complete, the drop test can be performed to confirm the door will close automatically during an emergency. You will also have to reset your door after the drop test per manufacturer's instructions. For a detailed explanation on maintenance and drop testing your fire door, view the guide, "Rolling Steel Fire Doors: Drop Testing and Annual Follow up".
It's critical your doors are working optimally at all times in case an fire does arise, so make sure to consistently inspect them and perform the required annual testing to promote smooth operation. Protecting the integrity of the safety features on your fire rated doors ensures they'll be ready for action if an emergency ever arises.