How are Counter Shutters a Security Solution?
Counter Shutters are the

Primary Security Solution

for Small Pass Through Openings
When you have a service counter or small pass through opening, you need a solution to protect your assets from vandalism, burglary, theft, and even environmental hazards. Counter Shutters are the armor of protection you're searching for, which is why you can so commonly find them in pharmacies, cafeterias, concession areas, ticket counters, nurse/hospital desks, and many more applications where security is necessary.
The quality construction and design of counter shutters is what gives them the durability and capability needed to protect your assets from harm. With interlocking aluminum or steel slats, counter shutters have more strength than the average closure. This heavy duty slatted design increases their structural integrity and provides protection both internally and externally to the opening. Counter Shutters are available in a number of durable materials; such as, clear anodized aluminum, 22-gauge steel, or stainless steel #4. These products can even come powder coated for a customized, long-lasting, even more durable top coat.
Counter Shutters Offer Protection From Environmental Hazards
Counter Shutters can even be designed to protect areas from hazardous environmental elements such as fire. Fire Rated Counter Shutters are manufactured with U.L. fire ratings up to 3 hours, and are the cost effective solution for protecting property in case of a fire, while increasing building safety for occupants.
With space saving designs and user friendly operations, Fire Rated Counter Shutters are a fail-safe system activated by detection and release devices to stop or slow the spread of a fire throughout an area as quickly as possible.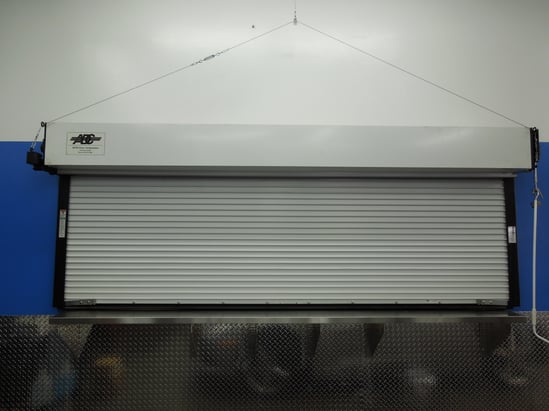 Counter Shutters Offer More Than Protection!
Not only are Counter Shutters known for their security, but for their visually appealing and compact design too. These products coil up and above the pass through opening when in the open position, resting out of the way for daily operations. This is beneficial for confined areas such as ticket areas or concession stands that have limited space.
Counter Shutters are constructed of smaller, more aesthetically pleasing components that come with a breadth of customization opportunities such as material, color, and operations such as manual push-up, awning crank with handle, or tubular motors. With these various options, Counter Shutter's can stand out or blend in from their specific applications.
Counter Shutters are also easy to use and require minimal maintenance to sustain. With every investment, you want to ensure you're getting the longest life time value out of that product, and with industry leading Counter Shutters, this assurance is made easy.
Counter Shutters are the sustainable security solution for service counters and pass through openings of all applications.